Ajiboye Crusades Across Country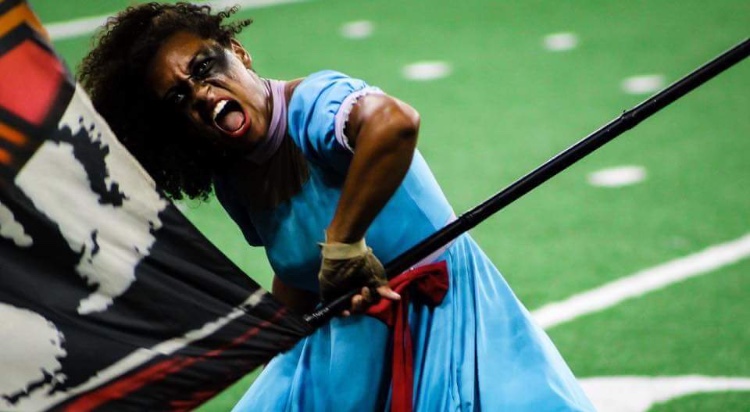 Diana Pyle, Online Editor
September 21, 2018
In less than a week, junior Foluke Ajiboye went from relaxing at home in Indianapolis to travelling two thousand miles away to join a world class drum corps in Portland, Oregon. In less than a month, she was competing in international competitions across the country.
Ajiboye was looking forward to lazing this summer, like most students. Between rehearsal for color guard, the junior could be found sleeping, practicing, or hanging out with her friends.
That all changed on June 12th, when Ajiboye received a call from Brandon Kendall, an instructor from Pike High School, telling her that there was an empty spot, and that she should send in an audition. Open spots aren't uncommon, each show requires a specific amount of performers, and if someone were to quit, or unable to fulfill the requirement, spots will open up. Ajiboye was thrilled with the opportunity to march professionally, and wasted no time on filming her audition. Later that week, she was boarding a plane for Portland. "My whole summer changed in five days," said Ajiboye.
The Oregon Crusaders is a world class Drum Corps International (DCI) group based in Portland, Oregon. They compete every summer against various other drum corps across the country. Kendall, the instructor who informed Ajiboye of the open spot, also marches for the Oregon Crusaders.
Ajiboye and her mother flew out to Portland on June 17, and Ajiboye started her drum corps journey.
"We got to the place it was held, and all there was, were endless fields, grass, and bugs." said Ajiboye. "But I went with it. I just started stretching."
This was the beginning of a summer-long journey. The first day Ajiboye arrived, she started learning the full show. According to Ajiboye, learning eleven minutes of work and drill was no easy task.
"It's already hard being with complete strangers, but then learning everything in two days, is unbelievably difficult."
Ajiboye was spinning flag for the first time, too. For the last two years at Perry, she had been accustomed to spinning rifle and saber. The hierarchy of color guard instruments starts with flag, then rifle, then saber.
Traditionally, your first year in guard is spent spinning flag, however for Ajiboye, she was on a danceline. Her talent carried her to start spinning weapon (rifle and saber) the next season, and has never looked back.
Two weeks after she arrived, Ajiboye had her first DCI performance in Portland, which then started her trek across the country. Darting from west to east coast, surpassing over 6,000 miles, Ajiboye performed from Seattle, WA to Rome, NY.
Ajiboye ended her expedition on August 10 at DCI semifinals in Indianapolis.
Despite the constant travelling, she says she wouldn't want to spend her summer any other way. The only fear she has about coming back to school is having to change her mentality. For the past two months, the junior has been in close quarters with a family she's built within the corps, and she says she's not ready for it to come to an end.
"You don't know if you're ever going to see these people again," said Ajiboye. From travelling over 8,000 miles, sleeping on gym floors across the country, and spending almost $4000 in fees, Ajiboye is sad she has to leave. "I know it sounds crazy how we sleep on gym floors and spend so much time on buses, but I wouldn't want to be doing anything else with my summer."
Ajiboye ended the season on August 10 with an award for outstanding color guard, and the Oregon Crusaders finished in 22nd place out of 40, at DCI semifinals.