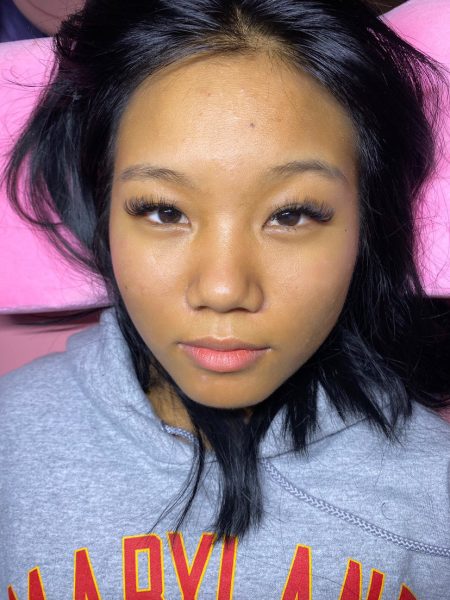 People want to feel beautiful. Whether it's a special occasion or just a regular Tuesday afternoon. Many will go the extra mile to pick the perfect, have the perfect nails, their hair done just right, their eyebrows shaped and their lashes lushes and long. Lash appointments are not for everyone, but Perry Meridian High School senior Iangtha Naomi Thang will make sure you look and feel your best any day of the week. Thang has been in the beauty business for 3 years, and got her start with eyebrows. Thang did it the traditional way, with tweezers and a face shaver. She tweezes and shaves around the brows to make them look cleaner. She has many clients from that and recently expanded her business to other areas of the beauty world. "With eyebrows [shaping], I started it my freshman year when I was 14," said Thang, "and then eyelashes, for three months, I was practicing and working on getting my certificate."
She recently went through the licensing process to grow her business. The certification consists of completing a 45-hour in person program, approved by the Indiana Department of Health, and practicing consistently, so she is experienced enough to do a lash set on a client. Thang had taken multiple classes at Ava Lash Company, for extra practice, and received her certificate August 3. Although she is fairly new to the lash world, she has already started to gain some traction from other PMHS students. Reviews are in, and they are great! "Naomi was super professional and the lashes held up really well! I'd definitely go to her again," said junior Erin McKenna.
As Thang navigates her way through the beauty world, she is also juggling her way through AP classes. Thang prioritizes her education over her business, not taking clients before any important exams and sets time aside to study. She is a bright student with a dream of going into the medical field after high school, but what if this is a long term career? "At first I wanted this to be a side hustle, but now, I might even have my own store. That's what I really want to do," said Thang. "If I love doing this, I should stick to it."
Thang will continue to perform her services on a variety of her clients, and will keep on improving as time passes. She plans to pursue this business after high school and stride towards owning her own store in the near future.