Town hall merges politics, student voices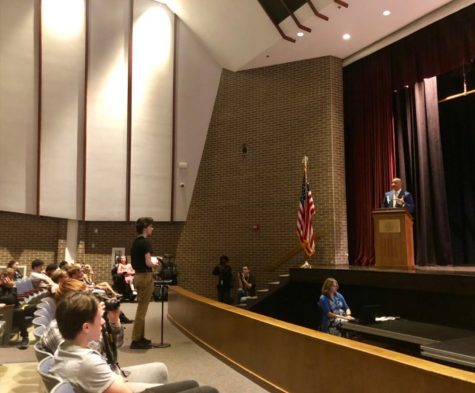 U.S. Congressman André Carson, along with other local representatives, visited the fifth annual PMHS town hall meeting, speaking on a wide range of topics. 
The town hall meeting, created and hosted by special education teacher Timothy Griffin, is an event designed to foster political interest and action in Perry students. 
After each town hall, students can participate in a mock-vote in order to familiarize themselves with the machinery.
During the meeting, however, politicians answered many questions, covering topics from gun violence to the utility of money.
Carson spoke on his role in deciding on education funding, gun violence in Indianapolis and the youth's general disinterest in politics.
Carson cited being arrested at 17, later becoming a police officer and helping his family at political events as the reasons he became more interested in politics, leading to his career in politics.
Deputy Mayor of Community Development Jeff Bennett also talked about gun violence, urging for better police conflict de-escalation training and getting guns off the streets. 
The rest of the meeting held a lighter tone, with much more explanation of political operation than violent issues.
Kim Sweeney Bell, Marion County Recorder, informed the audience what a recorder does: keeping track of who owns what property, an important responsibility.
Changing the pace of the meeting, councilwoman Susie Cordi came to endorse Duane Ingram as a councilman for the District 18 City-County Council. 
Ingram promised to build more sidewalks, initiate plans for a transit system and change his district's classification as a food desert.
Cordi's endorsement marked the beginning of direct political conversation, with general motifs of voting and getting involved being prioritized.
Russell Hollis, speaking on behalf of Marion County Clerk Myla Eldridge, talked about voting and the power of a singular vote, citing recent instances of elections being determined by swing votes.
Former District 23 councilman Scott Kreider encouraged students to get involved via petitions and volunteering and praised the value of education, telling students to "Stay educated. Stay informed."
"Policemen should never make the laws, just enforce them," District 36 Indiana State Senator and former policeman Jack Sandlin said. 
With Sandlin's last remark the fifth annual town hall meeting ended, and students were allowed to use the voting machines.
Championing the slogan, "You get what you get when you don't vote," the town hall meeting conveyed the importance of getting involved in the political process.