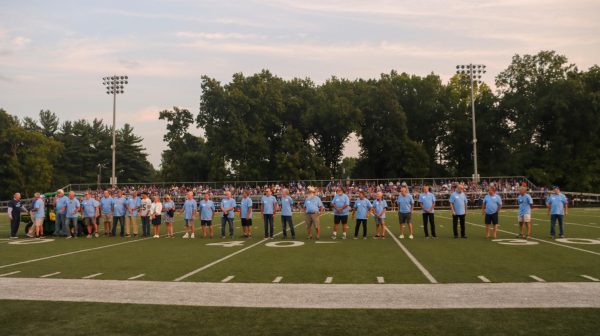 It was a busy week one for the Perry Meridian football team. Players prepared to perform in front of their first home crowd of the season, seniors walked out to the field with their families for senior night and students piled into the bleachers to cheer on their Falcons. Friday nights like this have been around since the start of PMHS and are a vital part of the culture and comradery at the school. This new start to the season marked the 50-year anniversary of Perry's first-ever football team.
PMHS opened its doors in 1973 as Perry Township's population outgrew Southport High School's capacity. With it, the new school brought new teams, clubs, and students. One of the first opportunities for the new school to prove itself came on Sept. 1, 1973, when the Falcon football team took on the Brebeuf Braves.
Going into the historic game, Perry Meridian was marked as the clear underdog as the team consisted of no seniors, the starting quarterback went down with a season-ending injury just days before the first game and the name of the team had not even been decided until just weeks before kickoff. However, the young team came with skill, potential, and a long history of winning throughout middle school "We were a small team but we were really really fast," team member Mike Pflum said. "That's how we won games."
The game was a competitive defensive battle with both sides holding their ground. At the end of regulation, the score was 7-7.
"It was cool just to be on the football field," team member Steve Legan said.
Notably, this was the first game under Indiana's new overtime rules. The Falcons found fortune in the new rule, and won 13-10, bringing the school its first-ever victory on the gridiron.
The team went on to go undefeated against Marion County opponents and ultimately won the Marion County championship.
"It shocked everyone," Pflum said. "No one expected it."
The Falcons finished 5-5 in their inaugural season winning multiple close games and setting the standard for years to come. The special group helped evolve the school from a new facility still trying to decide on a mascot, to a spirited community that united under the Falcon banner, a standard that lives on 50 years later.