Experience the border: Perry teacher has the eye-opening journey that goes beyond immigration process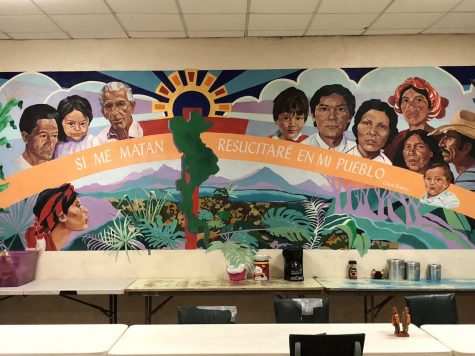 The Mexican-American border spans for 1,989 miles. A big portion of the border lies in people's very own backyards. This creates a human connection as immigrants attempt to cross over harsh terrain and portions of a fence that divide both countries.
At Perry Meridian, the topic of immigration is sensitive for many students who either come from a foreign country themselves or are first generation students in the United States.
One Perry Meridian student, who wishes to remain anonymous, shared her story of crossing the border with her mother at the age of eight. Her family had received numerous threats from dangerous people, which caused her mother to make the decision to come to the United States and seek safety.
"I remember my mother talking on the phone to a man who was going to bring us over the border safely," she says.
The next day after the phone call, she and her mother began their journey towards the United States.
"All I remember was carrying a small backpack of food and my mother carrying a larger bag while we sat in the back of a dark van driving for what seemed to be days. "My mother and I started walking and got to a house where we were told we had made it into Texas."
After entering the U.S., she and her mother resided with her father in Indiana.
Families from around the world come to America seeking asylum, which is the process of asking for political protection from another country. A person seeking asylum must provide evidence of facing persecution in his or her homeland.
According to U.S. Citizenship and Immigration Services, migrants are able to apply for asylum regardless of how they arrived to the United States.
In order to have a new beginning in the States, families from around the world wanting to enter the U.S. must first get to the border, which, in most cases, comes with obstacles and dangers. Often, these people are turned away or have to lie about why they want to enter the country.
Families who are potentially in danger are often turned away if they have yet to complete an application for seeking asylum or lack proof for the need for asylum. However, if a person seeking asylum displays proof of prosecution, he or she may stay in the United States while the application is processing.
Applicants are rarely detained by U.S. Immigration customs during the application process. According to U.S. Citizenship and Immigration Services, if a case is denied for asylum, the case is then issued a Form I-862, which is an opportunity for the case to be heard by a judge, who then makes an independent decision regarding the asylum seeker.
More recently, this issue has been seen with the uproar surrounding the Central-American migrant caravan. The caravan, consisting of migrants from mainly Honduras along with Guatemalans and Salvadorans, has has made its way to southern Mexico, according to the New York Times.
This began with Hondurans attempting to flee their crime-ridden country and crossing into Guatemala and Mexico, causing others to join along. They all are seeking a better life and opportunities in either Mexico or the U.S.
In certain situations, others lie about their age in fear of having to wait a longer period of time to enter the United States. The politically driven conversation on current immigration stems from the fear of mass numbers of foreigners entering the U.S.
Art teacher Kalie Holdren experience this issue first hand over the summer. She traveled for a week to El Paso, Texas and volunteered at one of the annunciation houses linked to the Border Awareness Experience. Also known as BAE, this organization helps immigrants come to the United States safely.
Teachers are encouraged to join this experience and visit El Paso, Texas, where the center is located, to help further their understanding of immigration.
The annunciation house is one of four shelters that provides hospitality to reunite families that were separated and detained from each other by Immigrations and Customs Enforcement, or ICE. . These houses allow volunteers from BAE to make connections with the children held at these detention centers by allowing them to spend time doing different activities during the time they were being detained.
"The kids being held in these centered ranged from ages four to nine," Holdren says. "We played games and sang songs to help them feel better about the situation they were in."
"I have worked with students who are undocumented when I lived in Arkansas, and I have been interested in the journey and process they had to face," Holdren says.
During her time at the house in El Paso, Holdren lived with "house guests," who had recently entered the U.S seeking asylum. As a volunteer, Holdren helped with the housework and made food to feed the people passing through.
Holdren also had a first-hand opportunity to experience walking through the same process an immigrant has to go through to successfully enter the U.S.
The route toured by the group is patrolled by border patrol officers. During the hike, Holdren witnessed a border patrol helicopter fly above the area where people are often found and arrested. The helicopter is also utilized to find the bodies of immigrants who died, most likely of dehydration or animal inflicted injuries.
"When you're at the top, you can see the Mexico sign and U.S. sign, which was pretty cool and eye opening, but you can also feel the heat of the desert beating down, and as we were walking back down, you kind of reflect on all of those feelings," Holdren says. "The interesting thing is that there is no border fence at the bottom, so border patrol has placed silent motion detectors where they easily spot when people are walking through."
During her time in Texas, Holdren visited murals and museums. A majority of the murals have a mixture of American and Mexican culture. One significant mural in the center of town displays the names of people who died during their attempt to cross the border.
Holdren also walked through a border patrol museum where uniforms and statistics are displayed. The museum included boats and different objects used by immigrants crossing over.
When it comes to going to a new country, people often leave behind everything they have worked for, including their families.
Holdren had the opportunity to personally connect with a young boy who arrived at the annunciation house with his father. They were headed to Virginia, where they would begin a life in the U.S.
However, the young boy would have to start high school in Virginia without understanding or speaking Spanish. Holdren taught him how to make paper cranes along with a few phrases that would help him communicate more effectively with fellow peers.
Immigration has never been an easy topic to talk about.
But it needs to be understood that people come from different places because they are seeking something better and something their countries were not able to provide them.
With the help of volunteer programs such as the Border Awareness Experience, people who seek asylum have the opportunity to safely enter the United States.