Hunt organizes book drive to benefit local students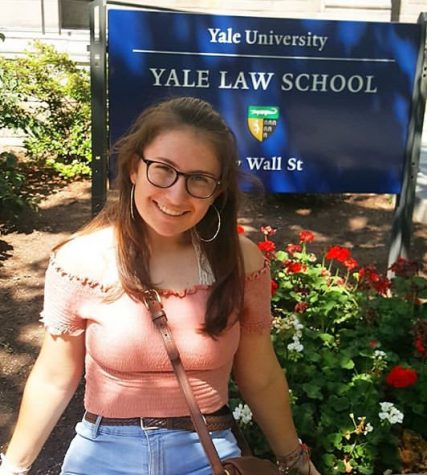 Although she was born in California, junior Hannah Hunt defies the valley girl stereotype typically associated with her birthplace.
She moved to Indianapolis when she was two years old and grew up in Perry Township. She acknowledges the positive impact being a Falcon has had on her.
"Perry Meridian has given me numerous opportunities to become the best version of myself," she says.
She gives back to her Falcon community as a member of National Honor Society, tutoring fellow students after school on Fridays.
"It's inspiring to see the potential in others and help them see that as well," she says.
Hunt also excels academically, balancing five AP classes and playing saxophone for the school's top band. The schedule challenges her, but she looks forward to every day.
"Junior year has proven to be rewarding because I have better developed my time management skills," she reflects.
Even with so much to focus on, she carves out time for maintaining her mental health. 
"I make sure to plan ahead on all my tasks and leave time for myself to destress," she says. "Literally what I do is burn candles, take naps, and put on face masks."
Her friends acknowledge the strong influence she has on the world around her. Junior Midori Adams has been close to Hunt since middle school and looks forward to seeing how she will leave the world a better place.
"Right from the get-go, I knew she was different. In the best way," she says. "I have no doubt that she's going to impact the world around her in a very good way."
Junior Hannah Hunt smiles, looking at the number of books she's collected so far. 
She laughs as she types out a social media post asking for more donations, telling people they don't need their "Diary of a Wimpy Kid" books anymore.
She has a not-so-wimpy task before her: collect as many books as possible to give the students she teaches at Hope For Tomorrow, a not-for-profit organization that works to close the gaps between the Burmese and American communities, specifically through education. Hunt began volunteering there this summer.
Hunt had the idea to start her own book drive when she noticed her kids loved the books they were able to read together but would tell her they didn't have any at home to read.
"The students I work with are bright and ready to learn and all the more deserving for something at Christmas," she says. "I thought books would be better for their education and something to make them happy."
 "I was looking for a job over the summer, but when I discovered this organization, I immediately thought it would give me the enriching skills to become a better person," she says.
Organizing her own book drive has been difficult, and she admits it isn't as easy as she thought.
"Getting support from our community has been a challenge," she says. "I feel like people are either unaware or forgetful. Getting the community to be as passionate as I am has definitely been the biggest struggle."
When she told her boss about her idea, he was ecstatic. She fondly remembers his reaction.
"Justin was supportive and positive regarding the idea," she says. "He liked that I saw a need and took action towards it." 
Hunt looks forward to the kids' reactions to their Christmas gifts. Their joy this holiday season is what excites her most about taking on this project.
"I am so excited," she says. "These kids will be appreciative and grateful. I think they'll freak out. They'll be like kids on Christmas."